The valves are responsible for moving fluids in and out of the tank. They can only be placed in the tank walls.
Operation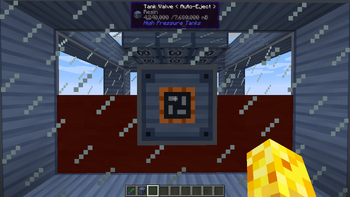 By default a valve will try to put any fluid that is pumped into it into the tank using a tiny bit of
Energy
(
0.02 RF/mB
or
0.005 EU/mB
) from the
Tank Controller
. And it will also let anything extract fluids from the tank. A Valve has a throughput limit of 500mB/t, if that limit is reached the valve will not accept or output any more fluid. When shift-right-clicking the Valve with a
Wrench
it will toggle "Auto-Eject" mode, in Auto-Eject mode the valve's texture has a spinning orange ring and the valve will try to output the tanks fluid to any fluid handler attached to it and you won't be able to pipe any fluid into the tank through that valve.
Note: A valve can only output fluid if there is fluid on the level of the valve in the tank. As a consequence any valve pointing upwards (placed on top of the tank) will never be able to output fluid, only accept.
Recipe
Crafting
Ad blocker interference detected!
Wikia is a free-to-use site that makes money from advertising. We have a modified experience for viewers using ad blockers

Wikia is not accessible if you've made further modifications. Remove the custom ad blocker rule(s) and the page will load as expected.