The pump can be used to transport fluids from one place to another. When placed, the large pump head will attach to the side of the block it was placed on, this can be changed by right-clicking it with a Wrench.
Operation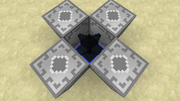 The pump will pump fluids from its large head and will output them to all available fluid containers around it without needing power. Small pump heads will appear on all the sides the pump can output fluids to. In normal conditions the pump can pump up to 250mB per tick, this can be increased by right-clicking it with
Speed Upgrades
. The pump volume per tick can be calculated like this:
, where
is the amount of
Speed Upgrades
applied to the pump.
If a redstone signal is applied to the pump, it will become locked, show red squares on all sides and seize operation.
Pumping Water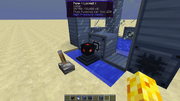 Additonally the pump can get water from an infinite source, by placing it with the large pump head facing the infinite source. It will then generate as much water as its pump volume (250mB without upgrades) allows, without removing the water block to prevent lag.
Recipe
Crafting
Usage
Ad blocker interference detected!
Wikia is a free-to-use site that makes money from advertising. We have a modified experience for viewers using ad blockers

Wikia is not accessible if you've made further modifications. Remove the custom ad blocker rule(s) and the page will load as expected.